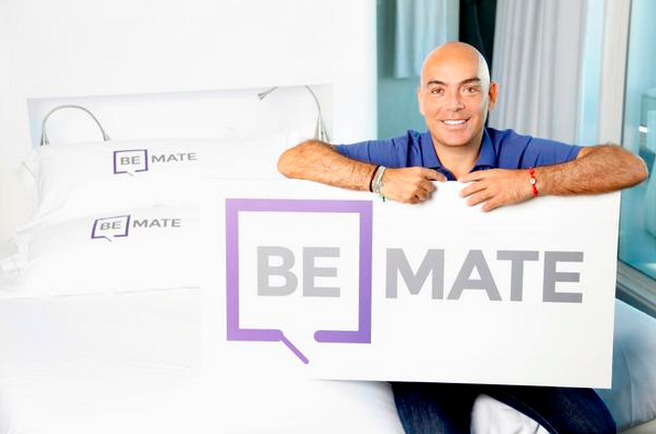 Companies such as Airbnb, Uber or Blablacar have been the target of Spanish enterprises and politicians for a while. Airbnb and similar startups fighting the status quo in the hotel sector have witnessed the approval of various regional laws that aim to forbid these kind of services or limit as much as possible their impact.
All of this is interesting because Spain is one of the main tourist destinations in the world and Barcelona the third or fourth biggest market for Airbnb, which boasts a valuation of more than $10 billion based on the startup's most recent round of financing.
BeMate, a new startup created by Room Mate's founder Kike Sarasola, is looking to compete with Airbnb and others by offering additional services for owners and guests that want to offer or book any of the 2,500 apartments the startup currently offers in 10 cities.
BeMate's website doesn't offer much info on why property owners or guests should choose them over Airbnb, but various articles published in the Spanish media offer glimpses into the key differences between both initiatives.
The differences between BeMate and Airbnb
BeMate will take advantage of the infrastructure already built by Room Mate over the past few years. Room Mate has 19 hotels and 2,065 rooms all around the world, with plans to reach 5,000 rooms and income of €200 million by 2017. All of BeMate's apartments will be located within walking distance of the hotels, in order to provide additional services to guests staying at the apartments. What services? 24 hour concierge services, pick up and drop off of keys, luggage storage, transportation to and from airports, cleaning services, etc.
BeMate claims that all of the apartments on the site are legal and have the licenses that, in theory, are needed to operate in Spain. The company will charge a 15% commission on each booking (5% to be paid by the owner and 10% by the user), while Airbnb's fee ranges between 6 to 12 per cent for the user and 3% for the owner.
It will be interesting to see how BeMate evolves in the near future and if they are able to replicate the success of Room Mate. Airbnb recently started to offer similar and additional services to users in various US cities, in an effort to make life easier for owners and to narrow the gap between hotels and P2P travel accommodation sites.
It's often said that competition benefits users, and in Spain the alternatives to hotels are numerous. Alterkeys, Only Apartments or Knok are some examples. And BeMate is joining the party.