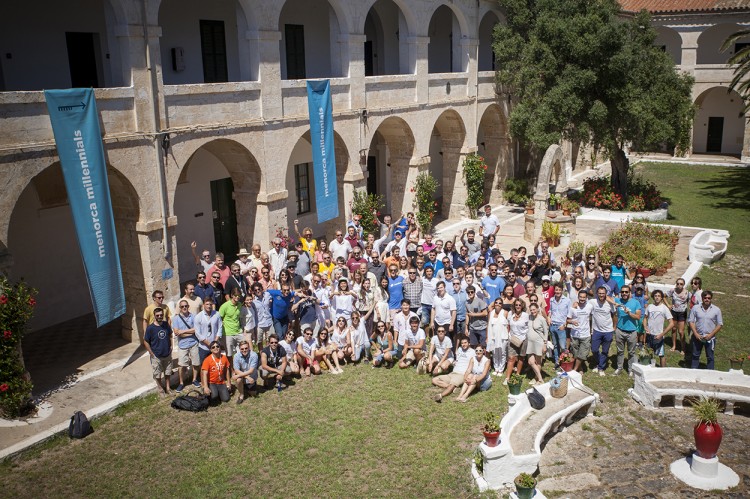 The peaceful island of Menorca isn't necessarily the place where you would expect to meet some of the biggest names of the tech industry. Yet, this is what happened this weekend, which was the pinnacle of startup retreat Menorca Millennials. Here's a look back at what happened during its 20-day-long program.
The brainchild of Ricard Garriga and Marcos Martin, Menorca Millennials was designed as a new take on startup programs. Its goal was to give entrepreneurs a chance to escape their day-to-day and focus on their next big idea in a distraction-free and relaxing environment. "We don't pretend to be another accelerator program, we are a de-accelerator", Garriga said.
Its application criteria were pretty high, with a strong preference for entrepreneurs who had raised a significant investment with a previous company, had a technical background, spoke English fluently, had lived abroad for at least 6 months, had a solution which could impact a billion people and were 'sustainably-minded.'
Menorca Millennials Showcase
While this selection filter may have seemed too ambitious, Menorca Millennials did find candidates that fit the bill, as we discovered during the showcase it held in Menorca last Sunday. Unlike a typical demo day, it didn't rely on long PowerPoint presentations. Instead of trying to cover every aspect of their business, entrepreneurs were encouraged to use their 3-minute slot to tell personal stories that might leave attendees wanting to know more. The 20 participating startups were the following:
Cross-cultural communication enabling platform Babelverse, which will soon launch its new website and API;
Bitcoin startup BTCPoint, which developed an API to support Bitcoin operations from standard ATMs;
Carbon Checkout, which entices consumers to make carbon offset contributions when doing online purchases;
Eyetok, which takes advantage of the fact that "everyone is a walking webcam" to enable live real-time broadcast;
FuVeX, a spin-off from the Public University of Navarre which is developing a highly efficient drone which combines the capabilities of planes and helicopters;
Hermosura, whose online games will help families and friends interact;
HomeSwipe, a home rental platform with a Tinder-like user interface;
Upcoming peer-to-peer lending aggregator LendMatic;
HTML5 development company Ludei, which makes it very easy for companies to create apps;
Crowdsourced parcel collection service Packagepeer;
Health startup Plataforma Saúde, which offers instant mobile-based check-ups;
PlayBar, which teaches math with a gamified approach;
PoaPower, which brings off-the-grid energy to Africa;
PulpCar, which wants to make the process of buying a used car less uncertain and stressful;
Tiempy, whose social media management dashboard is adapted to newbies;
Trappit, a B2B travel booking optimization solution;
Stampery, which applies blockchain to document certification;
Remedy, whose mobile app instantly puts patients in touch with doctors;
Watly, which uses solar energy to bring Wi-Fi, clean water and power wherever they are needed;
These teams had been previously selected among more than 300 applicants. They were also joined on stage by special guest Slashe, a French advertising agency with an interactive TV channel project called Slashtag.
It is worth mentioning that the event's venue was quite unique, as the showcase took place on the seafront of Menorca's Isla del Lazareto, whose name describes its former purpose. As a matter of fact, its 'lazaretto' was a quarantine station used to triage and isolate maritime travellers before allowing them (or not) onto Menorca's main island and preserve it from contagious diseases. Despite this gloomy past, it makes for a scenic location, which also reflects Menorca Millennials' initial inspiration to create somewhat of a "quarantine program" for entrepreneurs.
Nomad startups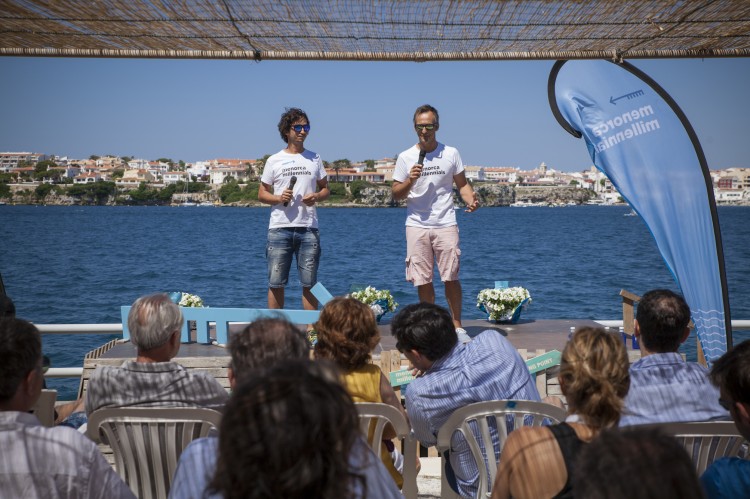 The boat trip to the island and back was the opportunity for attendees like me to chat with the startups, and one of the first things I noticed was their geographic diversity. While quite a few came from Spain and particularly from Barcelona, which is where most of the Menorca Millennials team is from, there were also founders from several other countries, such as Denmark, France, UK, US, Argentina, Brazil and even Taiwan. As for Spanish participants, at least a few of them were actually based in San Francisco, such as Ludei's founder Eneko Knorr, who moved to the US in 2011 and had previously sold his hosting company Hostalia to Telefonica-owned Acens in 2007.
In addition, 3 startups were alumni of government-supported program Start-Up Chile: Babelverse, Tiempy and Carbon Checkout, whose founders had heard about Menorca Millennials through Garriga's employer, YouNoodle, which also collaborates with Start-Up Chile. This connection aside, the fact that both programs share participants isn't too surprising; their profile makes them a good fit for founders who are willing to travel with their startup. In the words of Marcos Martin: "Menorca Millennials targets the next generation of entrepreneurs. With a laptop and a wifi connection these digital nomads are changing the world, from anywhere in the world."
One startup that truly embodies this mentality is Babelverse, whose founders fully embrace the title of 'glomad.' Having worked on their project in many different locations around the world, including Greece, Chile, Romania, and now Spain, they will soon return to London to participate in the MassChallenge UK program.
Millennial is a state of mind
Despite the diversity of projects and origins, all startups shared a certain je ne sais quoi that reflected the "millennial" spirit. While the term refers to individuals born between the early 1980s and the early 2000s, it also describes the state of mind of this generation, which arguably has a different relationship with technology than previous ones.
Several of the startups were taking this into account, with products that matched the preferences of younger users. For instance, HomeSwipe's founders knew that the traditional way of seeking a rental apartment was outdated and frustrating, and decided to build mobile-only, Tinder-like apps. As for live broadcast startup Eyetok, it offers brands a way to connect with millennials in their own terms.
While Menorca Millennials participants often shared the same ethos, their age and personal situation varied. On one hand, quite a few of them were parents and had come to Menorca with their families. The most telling example was Carbon Checkout, led by husband and wife Colby and Brycelaine Self, who came to the island with their three kids in tow… including their one-month old baby. On the other hand, a handful of startups had at least one teenager in their team.
Interestingly, the youngest participants had little to envy to their older peers. Some of them had already been awarded for their merits, such as Stampery's 19-year-old CTO Luis Iván Cuende, winner of the 2011 HackNow programming competition for underage European hackers. The Menorca Millennials group also included two Thiel Fellows: Noor Siddiqui from Remedy and Jason Marmon from HomeSwipe. Both have received a $100,000 grant from the Thiel Foundation in exchange for skipping college during the 2 years of the program.
The participating startups themselves were also at different stages of their lives. As a matter of fact, some were still considering changing product pivots or even name changes (Pulpcar) based on feedback they had received at Menorca Millennials. On the contrary, other teams were already further along when they joined the program. For instance, Trappit had already raised almost $800k before going to Menorca.
This was perhaps unsurprising, since organizers preferentially seeking second-time entrepreneurs. Still, it was noteworthy to see someone like Eneko Knorr join the program as participant, rather than as a mentor. "We will soon start looking for new funding and it made sense for Ludei," he explained, while pointing out the "really good level" of his fellows.
Human impact
The 20-day program was the opportunity for participants to learn from guest speakers such as Microsoft Spain's HR director Blanca Gómez, London-based investor Itxaso del Palacio, Grupo Prisa's Chief Revenue Officer Antonio Alonso Salterain and Startup NEXT director Mike Grandinetti. They also heard how Kantox founders Antonio Rami and Philippe Gelis managed to raise a series B round for their fintech startup, while former Desigual CEO Manel Adell told the story of how the brand went from 70M€ to 700M€ in revenue.
Another of those speakers was executive coach and entrepreneur Verne Harnish, who is also an advisor to Menorca Millennials. Commenting on the pitches after the showcase, he highlighted that many of the projects were going after big problems, such as health and access to basic resources. He also noted that they were bringing back a human-centric approach to a sector that might have gone too digital. However, they were still very much aligned with the latest trends in technology, such as the blockchain.
Brazilian entrepreneur Tales Gomes was particularly happy to have had a chance to interact with Harnish, whose books he had read before coming to Menorca. His social impact startup Plataforma Saúde is a good illustration of Harnish's comment. Born during Startup Weekend Rio Favela, it ambitions to bring access to primary healthcare to low-income populations, thanks to a combination of hardware and software. Its main service is a set of exams that identify the degree of risk of chronic noncommunicable diseases, such as diabetes and hypertension.
Other startups addressed pressing environmental issues, such as Carbon Checkout, whose project encourages people to compensate their carbon footprint. This was a good fit for Menorca, which deliberately avoided mass urbanization, and was declared a Biosphere Reserve by UNESCO in 1993.
The island effect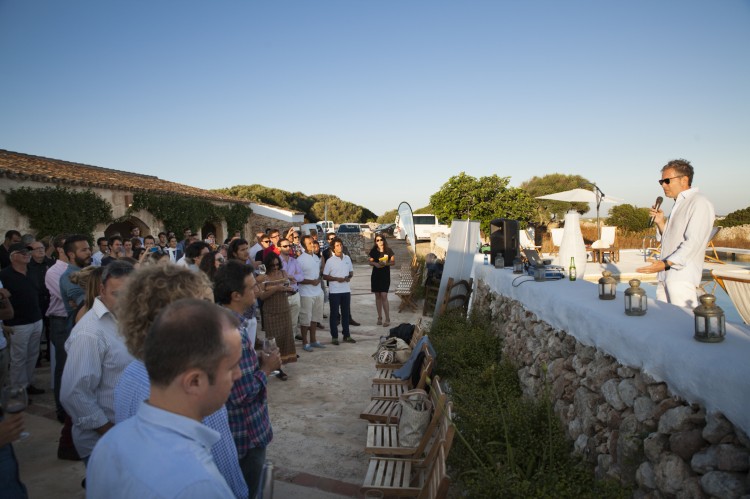 Menorca's preserved nature and beautiful landscapes have many fans, 23 of whom Garriga and Martin have managed to enroll as founding partners of Menorca Millennials. While we can't name them all, the list includes many high-profile names, such as Di-Ann Eisnor from Google-owned Waze, Javier Martinez from the Atletico de Madrid club, Jerry Engel from Berkeley University, Wotif's former CEO Sam Friend and Dan Hoffman from M5 Networks; each of whom has a personal connection with the island. For instance, Fon's founder Martin Varsavsky owns a rural property in the municipality of Alaior, where he welcomed Menorca Millennials' participants and guests for a cocktail dinner last Saturday.
"I used to do the Menorca TechTalks, a gathering of around 70 entrepreneurs from all over the world," he recalled. "We did that 3 or 4 years, but then we had our young children [and stopped], because the true organizer of this was my wife Nina. So when we heard of Menorca Millennials we decided to collaborate. It sounded to me like the millennials here are the people who are going to be guests in the Menorca TechTalks later on, since we are going after people who are more established. I loved the idea of having sort of a younger version of the TechTalks."
The Menorca Millennials program has been attracting attention in the island, with daily coverage in the local media. However, locals weren't simply bystanders, and three Menorca-based companies had been invited to join the program. Shot planning app Photopills was one of these "local rockstars" alongside voice-based mood detection startup Biloop and Socialvane, whose software helps companies makes sense of social big data. According to its co-founder, Germán Marquès, both groups benefited from their interactions: "The good thing is that we were also able to recommend places and so on, so it was really an exchange."
Entrepreneurs undoubtedly had a good time in Menorca, which Eyetok's co-founder Oskar Vidal Larsson describes as "an idyllic place." He isn't quite sure that "deceleration" is the best way to describe the whole experience. "It was more about drawing back in order to make a better jump," he says. Either way, his perception on the program was very positive. In general, all of the entrepreneurs we talked to in Menorca only had good things to say about the program, except some minor teething problems.
This is quite an achievement, considering the sacrifice that taking 20 days away from their office meant for them – although it was precisely the point of the program. "It's pretty amazing. For the first time in the past six months I've had time to think. In the office it's like being on a treadmill, with no time to think and breathe," CatFi's co-founder Mark Sung told us. This helped him focus on the future of his pet feeder company: "It has influenced our marketing strategy, and we have decided to reach out to veterinarians because of feedback we have received during the one-on-one sessions."
Scouting talent
From an investor's perspective, the Menorca Millennials program was much more of an accelerator than a decelerator, Martin noted with a smile during the showcase. In the words of founding partner and president of VectorCuatro Borja Escalada, "investors have their work done; what would normally take months and lots of filtering, Menorca Millennials did it for them."
It was quite clear that many attendees had come to Menorca to find deal flow for their investments and programs. For example TechCrunch staff member Sam O'Keefe was on the lookout for teams who could participate in Disrupt's Startup Battlefield, while Charlie Taibi represented Draper University, which offers an immersive residential training program to young entrepreneurs.
What's next
It is crucial for Menorca Millennials to result in new funding for its alumni; not only because it is part of their expectations, but also because the program's sustainability depends on it. Its business model indeed relies on 'selling' future investors some of the discounts it has been granted, in order to generate liquidity that can be used to make the program possible.
As a result, its team will actively help them seek funding: "Our value proposition to investors is to bring them the best deal flow. Martin and I will soon go on a roadshow to represent the startups vis-à-vis investors. We have gotten to know them from living together for 20 days, so we have qualitative information to share, but we are also bringing along a video pitch from each startup," Garriga said.
Although they will seek out business angels and VC firms in their network, it is entirely possible that Menorca Millennials' founding partners themselves will lead some of the funding rounds or at least contribute to them. Most negotiations were still under wraps at this stage, but we were able to confirm that some entrepreneurs had been invited back to Martin Varsavsky's house for further discussions, while others had received invitations to spend some time in the US to get introduced to their prospective hosts' contact network.
In the meantime, one thing is for sure: there will be another edition of Menorca Millennials next year, and everyone we talked to seemed to be looking forward to it. According to Garriga, it will also have a wider reach: "Our goal is to extend the training side to more people, and let startups that are not attending live at least part of the experience," he concluded.