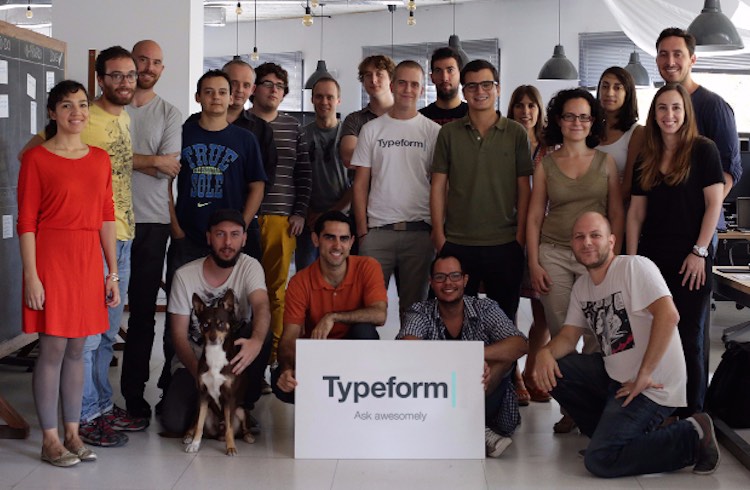 If you think filling up forms is boring, Barcelona-based startup Typeform hopes to change your mind. First launched in 2012, it boasted 250,000 users last month, whose forms generated a whopping 6 million visits. However, this is just a start, as the company is on a bigger mission to disrupt what its co-CEO Robert Muñoz describes as "the most basic interaction between a human and a computer."
"UX is Everything"
Chances are you have already completed one of the forms that Typeform powers, also known as… 'typeforms.' What sets them apart is the user experience they provide, both for the form creator and for end users.
As a matter of fact, they enable anyone to generate custom questionnaires and surveys. The site's template collection gives a good idea of some of its use cases, which range from job application forms to polls and marketing surveys.
Thanks to its easy onboarding process, Typeform can be used by very small companies, even when they are run by non-design savvy professionals. However, its client portfolio also includes big corporations and large brands such as Adobe, Airbnb, the BBC, the Financial Times, Quartz and many more.
In the startup world, it has proved quite popular as a way for entrepreneurs to ask for customer feedback or determine their net promoter score (NPS). For instance, fellow Barcelona-based startup Gym For Less recently sent me a typeform asking why I had not renewed my gym membership, giving me a chance to let them know I had changed cities in only a few taps on my phone.
Not only was the process quick and easy, but it also felt very natural. This is a key element of Typeform's approach: its forms are meant to flow like conversations, one question at a time, which sets it apart from the incumbents. While filling out traditional forms is a boring chore, typeforms are simple and even fun.
As a result, typeforms reached an outstanding average completion rate of 59 percent last January. According to Zapier, which shared this data point in a recent blog post, Typeform's competitor Formstack only reports "conversion rates ranging from 3% to 28%."
From WarGames to Typeform

As Typeform's co-CEO David Okuniev explained in a guest post on Smashing Magazine last year, he and Muñoz were inspired by 1983 cult movie WarGames. As some of you may recall, it featured a human-sounding terminal with which the main character was interacting through Q&A — so easily that he nearly sparked a nuclear war, but that's another story.
At the time, both Muñoz and Okuniev were running digital agencies in Barcelona, and had started to collaborate on some client work. One of those projects involved a showroom with huge screens through which visitors were supposed complete a contact form. Unfortunately, it was hard to implement in a way that would both look good and be easy to use, which eventually became Typeform's mission.
Interestingly, no fewer than two years passed between the first prototype and Typeform's initial launch. Moreover, its creators didn't try talking to users during this long development phase — they were busy iterating on their initial idea. In other words, Typeform didn't follow the 'lean startup' methodology, which didn't seem to fit its goal:
"What we did know is that we had stumbled upon an entirely new way of interacting with online forms, not just an evolution of the interfaces that we're all used to. If we had asked people what they wanted, we would have designed a normal form builder. Like Henry Ford, we needed to show people what they want," Okuniev wrote in his guest post.
According to Muñoz, this shouldn't be interpreted as a general rejection of the lean methodology, which Typeform now finds useful in some cases. "It all depends on each project's ingredients," he told us.
Typeform today
Typeform did listen to customer feedback to add new features during and after its beta testing phase, which ended in February 2014. While its core product is still free without response limitations, its Pro version includes advanced functionalities, such as the ability to accept payments through a form. Priced at €18 per month, its premium tier also lets users create whitelabel forms.
Typeform's branding has indeed been a noteworthy element of its free forms. Despite being fairly discreet, the 'Powered by Typeform' mention has played a great role in organic customer acquisition. In addition, the company also pulled a few clever stunts to showcase its platform, such as launching a 'XMas Llama Creator' for 2014's holiday season and creating a Form Invaders game.
More generally, Typeform has been crafting its image as a design-focused startup. Yet, it also wants to be seen as more than a 'good-looking SurveyMonkey' — because the comparison doesn't reflect its positioning beyond online surveys. "It opens many more doors to focus on forms than only on surveys," Muñoz explained.
This vision helped Typeform raise a total of €1.75 million from London-based Connect Ventures, Berlin-based Point Nine Capital and Polish investors RTAventures and Mariusz Gralewski. On a side note, it is worth mentioning that none of these backers are based in Spain.
What's next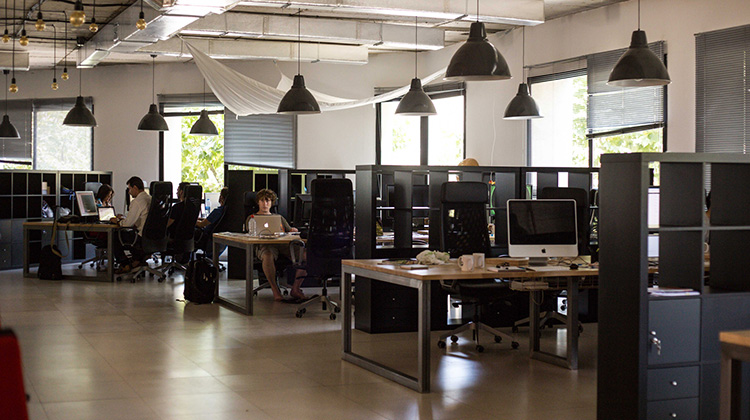 Typeform's founders are now seeking a new round of investment to fund the company's growth on both sides of the pond. "We plan to open an office in San Francisco at the beginning of 2016 or earlier — the sooner the better," Muñoz said.
One of the purposes of this new location is to get closer to the developer community, which will be essential to the success of Typeform's upcoming set of APIs. Known as Typeform I/O, it is currently in private beta testing, but could soon become an important part of Typeform's offering and usage.
"It's like Typeform for devs," the project's lead developer Victor Bjelkholm told us when we visited Typeform offices. It is important to clarify that devs would be acting as enablers, for instance to help any of their colleagues within a large corporation create typeforms that meet certain pre-set standards.
Although Typeform expects I/O to appeal to enterprise users, it also plans to adapt its pricing to all audiences interested in API access. "We want to have a very close relationship with those who use [Typeform I/O] and understand use cases," Bjelkholm added.
While the SF office will certainly help reach that goal, Typeform is also actively expanding its team in Barcelona, which is set to grow from 30 to 45 people in the next few months. Most of its 15 job openings are for technical roles, which may be somewhat difficult to fill outside of Silicon Valley. Yet, the startup is betting on several assets to find talent.
On one hand, being based in Barcelona helps attract talent from Spain, but also from all over the world: "As a Swedish person it's the perfect city where you could live," Bjelkholm said. On the other hand, already having an international team with tens of nationalities is also a factor that those applicants tend to take into account.
Still, these characteristics may apply to other Barcelona-based tech companies. So how does Typeform stand out? According to Muñoz, what sets it apart is its work environment. "The people are what makes it different; we look for restless people who seek challenges and are aligned with our culture. They need to be humble, but also very attracted by all things visual."
With that profile in mind, Typeform's founders spent an entire year looking for the right office space where its workers could thrive (and cook barbecues). It ended up renting out a former co-working space, which it took care to furnish in a way that fosters collaboration while reflecting its taste for design. "We see it as an investment," Muñoz explained. He also noted that it was still time to apply for any of Typeform's vacant positions, but be warned: the 'office dog' job is already taken.
Photo | Barcinno