To celebrate 65 years in Spain, Coca-Cola launches the GeneradorES program where 25 young Spaniards live together for 65 hours and work towards building a better future for Spain.
GeneradorES is a novel program that gives Spain's youth a voice so that they can contribute their talent and participate in the construction of the future of Spain.
Between October 18 and 21, 25 young people who excel in different fields and disciplines will live for 65 hours in a space created ad hoc by Coca-Cola outside Madrid to discuss, debate and make proposals for the future of the country.
"The best way to reaffirm our commitment to Spain is by supporting its future," said Pelayo Bezanilla, Director of Public Affairs and Communication at Coca-Cola in Spain in a statement.
"This future involves young people and provides them with tools so they can participate in the construction of their country," he added.
Generating Ideas That Respond to 5 Major Challenges
"How can you promote equality and social inclusion?" From questions like this, the 25 young people, aged between 18 and 30 years, will work together to generate ideas that respond to five major challenges that are among the main concerns of the Spanish, according to various studies and national forums and international, such as the CIS Barometer, the latest report on youth in Spain of Injuve or the conclusions of the 2018 annual meeting of the World Economic Forum.
In addition to equality and social inclusion, the other challenges have to do with climate change, politics, education and new business models.
25 Young People Eager to Contribute to Society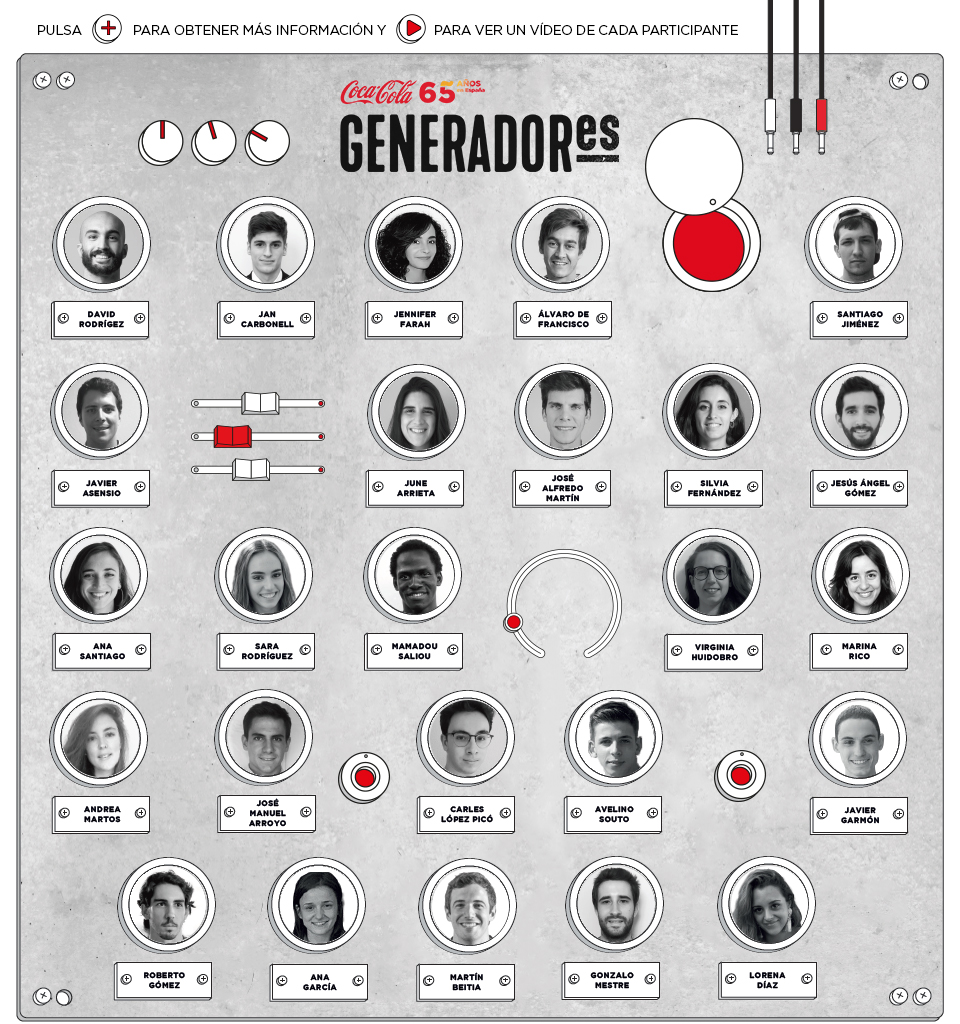 The generators are a diverse and representative group of Spanish youth: 15 young men and 10 young women from all corners of Spain and fields as different as medicine, engineering, education, artificial intelligence, design, and  communication.
"These guys and girls are not the brightest minds or the smartest in the class, but people with powerful curricula, but, above all, with initiative and the desire to contribute to society with tenacity and great communication skills," said Beatriz Osuna, Brand PR Senior Manager of Coca-Cola Iberia.
They also include second-generation Spaniards and young people like the Guinean Mamadou Saliou, who arrived on a fishing boat to Spain at the age of 16 and has managed to found his own NGO, or David Rodríguez, a professional athlete who started an association at the age of 22. for the integration of people with disabilities like him.
For its selection, Coca-Cola in Spain has had the collaboration of three expert entities: the Ashoka social entrepreneurs network, the Celera talent incubator, and the Youth Institute (Injuve).
According to the director of Celera, Francisco Martínez, what defines these young men and and women, regardless of their training and experience, is that "they are restless and proactive people" who "always find excuses to get involved in what they find interesting, they are often social challenges for those who have a proposal for change."
Inspirational Talks

During the 65 hours of coexistence, work and sharing, participants will not only find inspiration in themselves, in their colleagues and in a space designed to facilitate creativity, but also in outstanding speakers, chosen taking into account the themes on which will have to work.
Thus, they will count on the contributions of Álex Sicart, who is considered a young prodigy of technology who learned to program at the age of 10 and whose first great entrepreneurial project was a cryptocurrency, Sharge.
Juan Verde, international strategist and former advisor to Barack Obama; and Belén Atienza, a pioneer in the production of big-budget films in Spain, such as The Impossible and Jurassic World: The Fallen Kingdom, will also be speaking.