Techstars Startup Weekend Social Impact Barcelona concludes after a grueling 54-hour hackathon consisting of 11 sleepless teams that consumed 485.2 GB of data and an exorbinant amount of coffee.
The first hackathon of its kind in Barcelona, the aim of this Startup Weekend was to develop social impact solutions that aligned with the United Nations' Sustainable Development Goals.
The idea was to go from zero to business in the span of just 54 hours, but as anyone who has been to Startup Weekend can tell you, it's not all about who wins first prize, it's about having a strong, dedicated team that is able to continue collaborating long after the hackathon ends.
Rodrigo Seoane, a creative designer, tells me that placing in the top three projects is a great achievement, but it isn't everything. Most importantly, he says, it's about team building. If one were to liken Startup Weekend to a school, coming out as the top team is a lot like getting the best grades in your class. This provides a lot of opportunities and recognition, but it still comes down to what direction these projects take after school is out of session.
The man who facilitated Startup Weekend Social Impact Barcelona, Jan Carbonell, was not only the main organizer, but he contributed to being everything from the master of ceremonies, mentor, and handler of logistics to caterer, waffle-maker, and garbage collector.
On the opening day Carbonell remarked, "When we challenged ourselves to create Startup Weekend Social Impact Edition in Barcelona, the underlying reason behind it was that there was something missing in Barcelona. We need to connect all the social agents in Barcelona and get them together in an ecosystem, and also create a place for innovation where people can create startups and fail from very early on, and we wanted to do this with a social impact mindset.
"There is a very interesting initiative by the UN that outlines 17 SDGs [Sustainable Development Goals], which 180 countries around the world have agreed upon these goals that need to be changed upon by 2030.
"We have eight specific goals for this hackathon, and Startup Weekend is an open framework and an open mindset, but we have chosen these SDGs because we feel they are actionable, and that there is something that can be done in 54 hours, and we believe they are very relevant to Barcelona."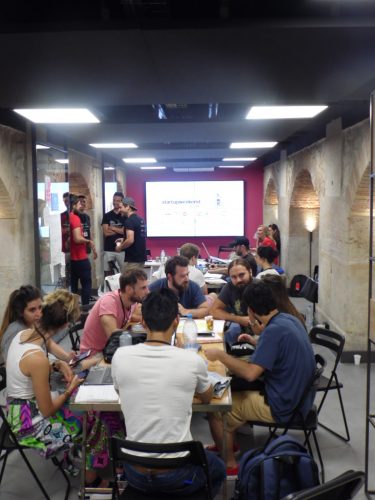 On the first day 11 teams were formed with an average of nine people per team with backgrounds in development, design, business, and marketing.
Projects and solutions ranged from reducing restaurant food waste through biodegradable utensils and containers to tackling homelessness through quick shelters that can be constructed in a relatively short amount of time, as well as a method to circulate cleaner air in subways through a system of indoor vegetation.
Techstars Startup Weekend Social Impact Edition Teams
Bambu Bjorn – Tackling how to reduce single-use plastic waste with bamboo cutlery.
Twaste – Eliminating food waste from stores and bakeries to convert unsold perishable products for businesses to make sales.
Kuki – A solution to better the quality of air in enclosed spaces like Barcelona's subway system through indoor vegetation.
Deebus – A support channel to empower children with a better state of being by having them draw their own superheroes and have those converted into toys through 3D printing.
Cambexo – An app for travelers that allows them to meet up and exchange foreign currencies without conversion fees.
RestartBCN – Microhousing for the homeless by building structures in empty lots for people to live in.
BrushBetter – Led by a dentist, it helps kids and families better their oral hygiene by implementing good habits, along with a way of identifying problem areas for plaque.
Plastic Hunt – Looks to eliminate plastic waste in coffee shops and take-out stores through an app that rewards people that choose plastic-free options.
TickEND – Works on ridding the world of paper receipts by digitizing the process, helping vendors better know their customers, so they can better cater to their needs through iniatives like letting them know when specific sales are going on.
Envi-R – Aims to reduce electronic waste like old computers and phones as this is a major world problem.
Circle – An educational platform to bridge generations by helping the elderly better understand technology and how to use it.
Techstars Startup Weekend Social Impact Edition Winners
Taking home 1st prize was Twaste.
Runners-up were RestartBCN and Circle.
BrushBetter, which gave a very impressive presentation, received an honorable mention as it was a great solution, but it had already been conceived, at least in part, before the event, and the aim of the 54-hour hackathon was to go from zero to business plan.
The jury panel for Techstars Startup Weekend Social Impact Edition in Barcelona as shown in the featured image were from (L) to (R) Jonas Paul Westermann, Research Engineer at Alpha; Andrew G. Wong, Founding Partner at Fundie Ventures; Raimon Puigjaner, Co-Founder and Partner at Roots for Sustainability; Juan Ignacio Zaffora, Program Manager at Ship2B; Gus De Vita, Founder at Le Wagon Barcelona; Silvana Churruca, CEO at Payment Innovation Hub.
The Next Challenge
Startup Weekend in Barcelona is over, keeping teams together is the next challenge.
The entire weekend was a hectic rush to get projects built and each and every team member worked tirelessly around the clock to turn their ideas into realities.
Many spent sleepless nights that resulted in them having to consume copious quantities of liquid stimulation while periodically crashing on stairs, desks, and tables whenever they had a spare 30 seconds to catch a bit of siesta.
Now that the sprint is over, their teams need to stay together and see their projects to full fruition. Many have their own jobs to pay the bills and since the teams were very international, team members can live in other countries.
Dedication, communication, and sacrifice are essential to keeping the team together and realizing the potential these startups have on sustainable development through social impact.
Novobrief was an official media partner for this event.